About us -
About Haji Zeynal Abdin Taghiyev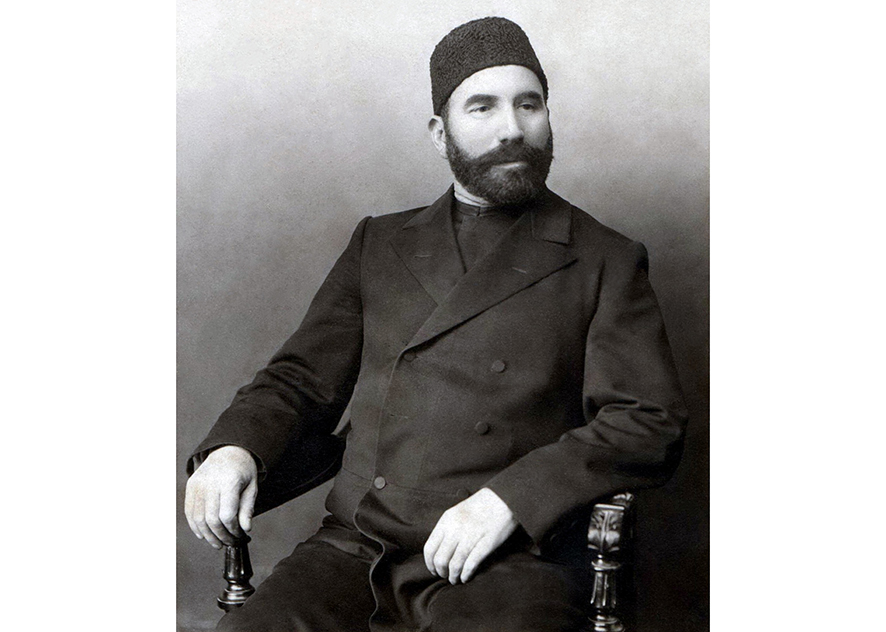 Haji Zeynal Abdin Taghiyev who lived from the mid-19th to early 20th century was born in the Old City of Baku, a son of shoemaker Muhammad Taghi Taghiyev and his wife Umkhanim. According to one account, he was born as early as 1823, but a more probable date is 1838.While still in his childhood, he lost his mother. His father later remarried and had five children with second wife. To help his large family, young Zeynal Abdin, early in his teens, began working at construction sites where he earned 5-6 kopecks a day. By the time he turned 15 he had already mastered the profession of being a mason.
From his first marriage with Zeynab khanim, Taghiyev had three children: boys Ismayil and Sadikh and girl Khanim. After Zeynab khanim's death, he married Sona khanim Arablinskaya on June 28, 1896 who bore him five children: daughters Leyla and Sara, sons Mammad Taghi and Mammad Kazim and, finally, daughter Surayya.
With capital he had accumlated by the early 1860s, Taghiyev went into manufacturing and trading. In 1870 he acquired a small kerosene plant. After the government's abolition of the leasehold system in the petroleum industry in 1872, H.Z.A.Taghiyev, as one of the shareholders of "Souchastniki" (Partners Co.), participated in competitions for petroleum fields held in Baku in 1872. His company, along with a few others, won the rights to drill oil. In the ensuing oil frenzy, he decided to withdraw from the company and have a go at it alone. Together with another partner, he bought a plot of land in Bibi -Heybat for 9,000 rubles and began drilling.
In 1873, he established "H.Z.A.Taghiyev Petroleum Production Co." Despite continued drilling, no oil was seen for five long years. Not despairing, H.Z.A.Taghiyev persisted in explorations with what witnesses described as a "strange confidence". He even went to the wellhead to drill himself. Early in 1877, a long- awaited gusher blew out of the well, almost overnight Haji became one of the wealthiest men in Baku, though he was careful to first transform his production site into a substantial petroleum business. The famed Russian chemist D.Mendeleyev, who visited Baku around that time wrote: "After Kokorev, in Baku there comes the government and then Boermeistr, Haji Taghiyev, Lens and L.E.Nobel."In a few years, H.Z.A.Taghiyev's small firm turned into a petroleum company, encompassing drilling, production, refining and transportation operations. In the 1880s H.Z.A.Taghiyev's firm produced 10 million poods (a pood - 16.38 kg) of oil. By 1893 H.Z.A.Taghiyev's petroleum production reached 20 million poods and in 1896 exceeded 32 million poods. According to the Paris-based Rothschild Brothers banking house. H.Z.A.Taghiyev's petroleum business, valued at 20 million Russian rubles, was rated "excellent with present revenues high".
By the end of the 19th century, Baku's petroleum industry had been divided between large multinational corporations and local companies linked international financial capital. Realizing that a further rivalry was counter- productive, H.Z.A.Taghiyev sold a majority share in his petroleum business (including his oil fields, a pipeline, refineries, the oil-transporting fleet, railroad tanks, as well as storage facilities in several Russian cities), to a business group headed by British banker E.Hubbard for 5 million rubles. Based on Taghiyev's business, the British established Russian Oil and Liquid Fuel Production Company (Oleum) in 1897 but Taghiyev remained a share hold and one of the company's directors. Why did he sell out so cheaply? Was it his foresight of an impending crisis in the petroleum industry due the exhaustion of older fields, rising production and transportation costs and increased competition in the export markets, or he simply needed a lot of cash to quickly realize his other plans? With the funds raised from the sale now invested in the construction of the first modern textile factory in the Caucasus and the establishment of the commerce Bank in Baku, perhaps the second explanation is closer to the truth.
H.Z.A.Taghiyev also owned six ships and a tank car park. This allowed him to become one of the best transporters of oil products.
A move away from the petroleum industry was well considered. Huge demand by Russian textile factories for cotton yarn and fiber drove H.Z.A.Taghiyev to build a cotton cloth-producing facility: the Caucasian Joint-Stock Company for Production of Fibrous Materials was established in Baku in October, 1897. The Company started construction of a textile factory equipped with up-to-date imported machinery as the main production facilities were commissioned in 1901. This meant creation in Azerbaijan of a whole new industry which manufactured value-added products from local sources and earned large revenues and generated thousands of jobs for the unemployed. The factory, located in the village of Ahmadli, near Baku, provided free housing to all workers, had its own power station, man outpatient medical clinic with a drug dispensary, a school and adult learning courses for workers. Unlike many others, for example Nobel Brothers Company whose construction of facilities was done piece - meal in line with the gradual increase of output, H.Z.A.Taghiyev's factory, from the beginning, was conceived and designed (by the famous architect J.Goslawski) as a single manufacturing-housing complex. This was the first industrial housing estate in Baku built according to a pre-defined plan.
H.Z.A.Taghiyev's other notable business interests included investments in electro energetics, communications, food industry, land plots and involvement in real estate brokerage.
H.Z.A.Taghiyev is remembered not only, and not even primarily, as an owner of a large fortune , but mostly because of his enlightened and charitable activities. It is through such deeds that he earned the title "Father of the Nation" during his lifetime. He was repeatedly elected to the Baku City Duma (Council) and used his presence to drive deliberations and decisions made there toward programs for the benefit of the public. Not only did he help to approve, and voted for such projects, but financed many of them from his private funds. On his initiative and with his financial contribution, the City Council undertook developments, including the first public mass-transit system, a horse-driven konka tram, the first theatrical building, and the Taghiyev Passage, a business centrum- shopping mall. H.Z.A.Taghiyev was closely involved in the project directed to the provision of Baku with potable water. Back in 1874, he financed construction of a small pipeline, for which he was awarded with a silver medal "For Merit". In 1901, H.Z.A.Taghiyev paid 25,000 rubles to a British engineer William Lindley to conduct a project on underground water extraction, and in 1917, the Baku potable water system was commissioned for public use.
Advancing education was an important part of H.Z.A.Taghiyev's activities. His active interest and contributions to education earned Haji a title of Honorable Trustee of the Marine Female Gymnasium, the Alexandrine Russian- Muslim Female Boarding School, the Secondary Technical School and the Commerce School in Baku and the title of Honorable Supervisor of the Tbilisi Shia Muslim School.
With generosity characteristic of him, H.Z.A.Taghiyev also provided individual scholarships to dozens of deserving students to pay for their tuition fees and provide them with a stipend. Among those students were those who later become outstanding political and public figures, scientists, doctors, and engineers, including Hasan bey Aghayev, Neriman Nerimanov, Meshedi Azizbeyov, Alimardan bey Topchubashov, Nesib bey Yusifbeyli, Aziz Aliyev, Agha Akhundov, Gara Akhundov, Garabey Garabeyov, Khudadat bey Malik- Aslanov, Shahbar Rustambeyov and many, many others.
H.Z.A.Taghiyev's enlightenment and charity interests went beyond his native province. He spent funds on maintenance of schools in Elisabethpol (Ganja), Shamakhi, Nakhchivan, Tbilisi, Derbend, Irevan, and elsewhere in the Russian Empire.
The establishment of the Russian-Muslim Female Boarding School was, without a doubt, a milestone educational achievement for H.Z.A.Taghiyev. It was opened in Baku in 1901 at the patronage of Empress Alexandra and was officially named after her (The Alexandrine School). The school was the first secular educational institution in the East for Muslim girls. In 1896, H.Z.A.Taghiyev allocated 150,000 rubles towards construction and operation of the school. Of these funds, 25,000 rubles were invested in the building of the school and the rest was earmarked for spending on teachers, books, teaching aids and school maintenance. Graduates of the formed the core cadre of female teachers.
Expressing his attitude about periodicals, H.Z.A.Taghiyev said: "I see the press as a powerful means of spiritual, educational and economic growth for the Nation and, therefore, deem rendering financial assistance to newspapers my moral obligation." In 1895, H.Z.A.Taghiyev bought "Kaspi"("The Caspian") newspaper, edited by Alimardan bey Topchubashov. To that, H.Z.A.Taghiyev added "Hayat" ("Life") newspaper, co-edited by Ahmad bey Aghayev and Ali bey Huseynzade, in 1905 and "Fuyuzat" ("Bliss") magazine, edited by Ali bey Huseynzade, in 1906.
Another outstanding development in Azerbaijani history linked with the name of H.Z.A.Taghiyev was the founding of the national theatre. The first theatre in Baku was founded in 1873. Haji, who highly valued the importance of theatre to assist in the enlightenment of the Nation and the continuing development of its native language and cultural level, built the first theatre building in Azerbaijan in 1883 at his own expense. Sending an additional 80,000 rubles, he rebuilt the building in 1890. The theatre building, located in the city center of Baku, was large, well equipped for those days and had a beautiful design. Interestingly, the theatre had a separate, spacious box for women. The opening of the theatre became an important event in the history of the national culture: Azerbaijani theatrical troupes finally had their long-awaited stage.
H.Z.A.Taghiyev was, in a literal sense in love with art. He often went to the theatre alone or with his family; he was a fan of both national and European plays. Haji's rich collection of paintings is now prominently displayed of the Rustam Mustafayev Art Museum in Baku.
H.Z.A.Taghiyev welcomed the proclamation of the independent Azerbaijan Republic in 1918. He received high - level government guests in his estate. Only at the time of the independent Republic did H.Z.A.Taghiyev witness the realization of one of his greatest wishes: the opening of a higher education institution in Baku. The Baku University was established by the Statute of the Azerbaijani Parliament of September 1, 1919. Haji was invited to the opening ceremony. Like other Azerbaijani entrepreneurs, he made a generous contribution to the University. The great philanthropist offered using profits from the trading center he owned - the so-called Taghiyev's Arcade - for the benefit of the University. In 1919, the Democratic Republic of Azerbaijan sent one hundred youth to receive university education abroad, with H.Z.A.Taghiyev providing financial aid to the students.
When the Soviet regime was established in Azerbaijan in 1920, all of H.Z.A.Taghiyev's industrial and trading enterprises, financial stocks and assets, public and residential building were taken from him and nationalized. He could stay with his family at his summer residence in Mardakan. While Neriman Nerimanov remained the Chairman of the Council of People's Commissars of Azerbaijan he shielded Taghiyev from all pressures. H.Z.A.Taghiyev died on September 1, 1924 and was buried in Mardakan alongside the grave of Akhund Mirza Abuturab, whom he deeply respected. After N. Nerimanov's departure for Moscow, Taghiyev's family had to take residence in one of their small houses in the Old City. In the years that followed, H.Z.A.Taghiyev's deeds and even his name were condemned to decades- long oblivion. Taghiyev's family members were persecuted, some of them convicted during the Stalinist purges. H.Z.A.Taghiyev's life and accomplishments have , only since the late 1980s, received proper recognition. Streets, educational institution, and industrial enterprises have taken on the Taghiyev name.
H.Z.A.Taghiyev left an indelible record in the memory of generations with his activities, deeds, concerns and care for the future of the Nation, astonishing generosity, nobility and his ability to keep up with changing times. His many -sided entrepreneurial, social, and philanthropic endeavors served the economic and cultural development of Azerbaijan and truly made the country what it is.