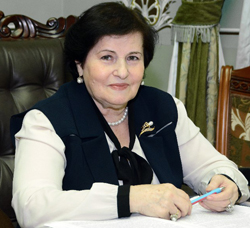 11 April, 2020
Academician Naila Velikhanli: "We believe that the world will pass this difficult exam"
National Museum of Azerbaijan History of ANAS operates online, supporting the initiative "Stay at home, create at home", announced by the Ministry of Culture and the portal "Creative Azerbaijan".
The director of the museum, academician Naila Velikhanli, gave an extensive interview about the activities and research of the staff of the institution she leads in a special quarantine regime.
Academician N. Velikhanli said that work on the promotion of fund materials, catalogs and other publications of the museum continues. Information on the video film dedicated to the genocide on March 31, 1918, prepared by the Museum's Education Department with the participation of students from various schools in Baku, was posted on the museum's website. "It is gratifying that the museum's virtual activity is monitored and evaluated outside the country," she added. Read more...