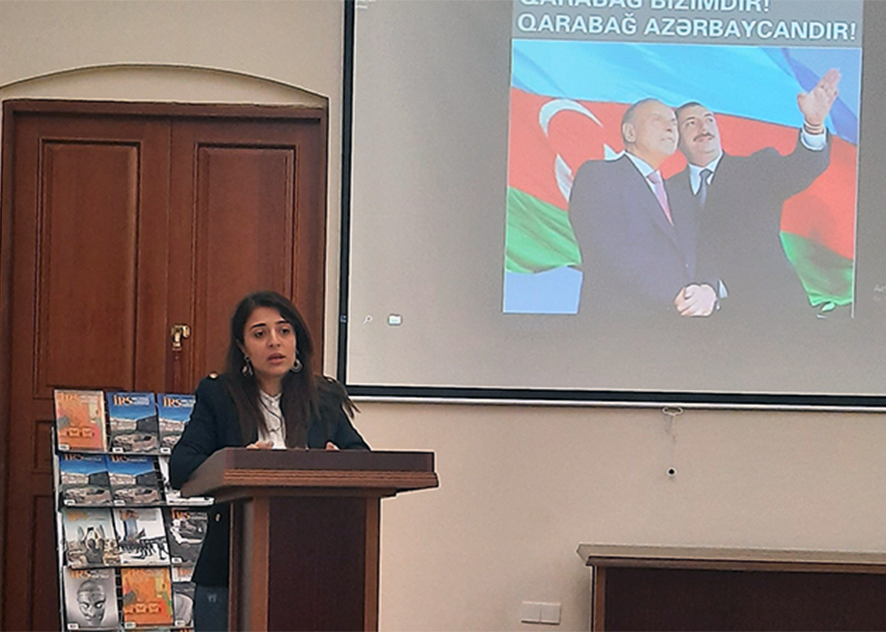 15 October, 2020
An event entitled "Karabakh is ours, Karabakh is Azerbaijan" took place
National Museum of Azerbaijan History of ANAS and New Azerbaijan Party Sabayil district Organization has realized an event entitled "Karabakh is ours, Karabakh is Azerbaijan", dedicating 29th anniversary of the renewal of independence of the Republic of Azerbaijan.
Opening the event, Parvana Azimova, chairwoman of the museum's first territorial organization "Azerbaijani historians", presented her lecture dubbed "Great leader Heydar Aliyev: "For the sake of independent Azerbaijan!"
She spoke about the decisive activity of the great leader Heydar Aliyev for the independence of Azerbaijan, as well as the achievements of our country under the leadership of President Ilham Aliyev. She expressed confidence that under the leadership of the Supreme Commander-in-Chief, our lands will be liberated from occupation and our army will be strong.
Senior researcher of the Department of Numismatics and Epigraphy of the museum, Ph.D. Aygun Mammadova delivered a lecture entitled "Azerbaijani coins are the main symbol of statehood" and stated that Azerbaijani coins are important factual findings representing all historical periods.
Presenting her lecture dubbed "History written in blood", Sevinj Nasirova, chairman of the Council of Young Scientists and Specialists of the museum, Ph.D., touched upon the events of modern times and spoke about the bravery of our sons who died in the independence of our people.
Then Shafa Movsumov, a researcher at the Department of Numismatics and Epigraphy, presented a lecture titled as "National liberation movement and our state independence". In his speech, he glanced at the history of the national liberation movement of the Azerbaijani people, the events of January 20 and the solidarity of our people against Armenian separatism in our country.